vegan / natural ingredients / cruelty-free / made in france
the beauty of your nails naturally
The 1944 Paris nails collection was born from the desire to change the way women take care of their hands and feet. We wanted to create simple, Clean, Eco-responsible and Effective products. Products that respect the nails of today's women!
The beauty we defend finds its balance as much in science as in nature and pleasure! Our partners, french laboratories, follow our charter precisely, using controlled products whose traceability is assured throughout the production chain.
1944 Paris Nails, it is the requirement of a beauty for all, a new way of thinking beauty for the nails!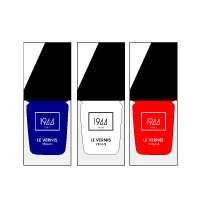 the advantages of our vegan and natural nail polishes
nail polish & vegan treatments
Formula composed of ingredients of natural origin
Vegan
Not tested on animals
Hold / Shine / Radiance
Made in France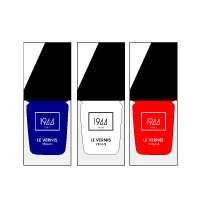 the vegan nail polish gel
Formula composed of ingredients of natural origin
Vegan
Not tested on animals
12 days hold / Shine / Radiance
Catalysis under LED lamp
Removes like a nail polish in less than 5 minutes
Preserves the nail's health
Made in France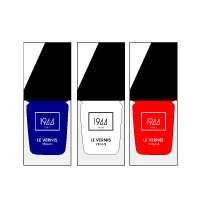 the vegan nail polish gel
discover our vegan & eco-responsible cosmetics
Look after your style while preserving the environment with our range of vegan nail polishes made in France with natural ingredients. The 1944 Paris nail polish, which is the result of several years of research and experimentation, is one of the healthiest nail polishes on the market. Whether you are a novice in green cosmetics or a regular user of natural nail polishes, you will be amazed by the shine and durability of our products.
a large choice of nail polish with natural ingredients
The 1944 Paris vegan nail polish, Miracle oil, 2 in 1 Breathe base and Quintuple care (tinted or transparent) are essential products for your eco-responsible manicure sessions. The benefits of these four items complement each other and allow you to care for your nails while enhancing their natural beauty. Let yourself be seduced by the 48 colors of our vegan nail polish: from alabaster to licorice black through azure blue, we have declined this product in a slew of irresistible shades.
take part in the 1944 paris adventure
Our range of vegan nail polishes faithfully reflects our values. They are formulated with multiple natural ingredients and will give you a dazzling professional result. In addition to being composed of natural ingredients, our nail polishes are also not tested on animals, an important value to us and, we know, to you as well. Finally, they are safe for the environment. This range of varnishes is the result of a unique adventure: that of 1944 Paris, an independent and French company.
change the world in beauty
Your relationship with the beauty industry is changing. In a context of ecological crisis, you are more and more demanding towards the manufacturers of cosmetic products. You want more transparency about the design of your nail polishes, their manufacturing process and the raw materials used. At 1944 Paris, we support this awareness and offer you products that are not tested on animals and are not harmful to the environment.
nail polish made in france through a unique manufacturing process
As part of our eco-responsible approach, we are committed to the origin of our raw materials: all products in this category are manufactured in France with bio-based ingredients. We guarantee the traceability of our raw materials and work with ingredients of natural origin such as potatoes, corn, manioc and wheat.